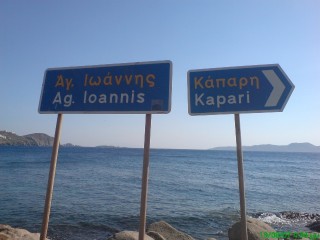 Kapari Beach Mykonos Beaches
Silence and privacy.
Small beach, with difficult access, bumpy road, and a rutty pathway which drives you to the blue, glassy water  with the silver sand and the even stones, which it will be worth  the effort for every visitor.6 kilometers away from the center, reorganized beach, without umbrellas, sunbeds and beach-bars.
P.S. West beach, which is nice even late in the afternoon.
Kapari Beach Mykonos. This beach at Mykonos is without any Hotels Rooms or any other Accommodation (You can find hotels at Agios Ioannis beach ) and  only for those that wants to spent their time on a calm beach and natural scenery. Facing the holy island of Delos swimming at KAPARI Beach  can only make you feel like an Ancient  Greek. Need to be alone? Head to Kapari Beach, located right next to Agios Ioannis beach. This sandy, earthy paradise has kept its true form, surrounded by rocks and engulfed in turquoise waters it has a dreamy view of Delos and is perfect for some secluded swimming.
 Kapari Beach is a locals' hotspot. Nestled in a rocky hillside, crystal blue waters and a laid back atmosphere await. Greek Gods and Godesses mingling on the beach serve as reward for the tourists able to find this gem.  
Kapari Beach Mykonos Island Greece General Map of Mykonos
MykonosTour Page ID: 458