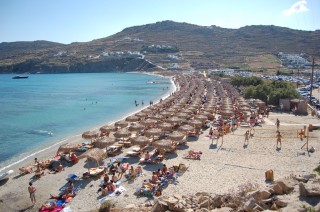 Kalo Livadi Beach Mykonos Island Beaches Greece
In the south east part of the island (10 kilometers away from the center), between Elia and Kalafati, is located  Kalo Livadi, one of the biggest beaches in Mykonos. The new hot-spot of celebrities, the liveliness of young people in beach-bars and  space for families also, are right here. You will find shallow water, comfortable sunbeds, straw umbrellas, restaurants, beach-bars, changing rooms and water sports. Famous bar-restaurant is SOLYMAR with lots of people every day, liveliness and loud music.
P.S. You can go to Kalo Livadi by your car, bus or taxi. There is also access in people with physical disabilities.
MykonosTour Page ID: 27