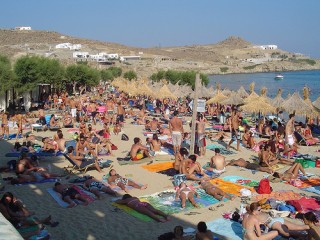 Paradise Beach Mykonos
Paradise.
Paradise beach is 6 kilometers away from the center with sand, blue water and is the same popular like Super Paradise. Perfect organized with beach bars and pools where many parties and different events happen  whole the summer. You can find water-sports and one professional centre  for diving. "Tropicana" beach-bar is prizewinning because is one of the best beach-bars for all the styles with liveliness and mood for dancing. Easy accessible by car, bus or boat.
P.S. After 16:00 p.m. the music is louder and accompany you even to your swimming.
Probably the most popular beach on the island. You can get the by  Mykonos busses. perating since 1969, with many facilities available: Paradise Hotels , paradise camping and studios and apartments , two mini markets, newspapers, laundry, a water and electricity supply, natural shade and wattle fences, a restaurant with international dishes open 24 hours a day, a souvenir shop, internet, fax, secretarial services, a playground on the beach and mush more. Paradise beach   Mykonos developed its fame and contemporary name through its discovery by the "Hippies" and other world traveling backpackers of the 60"s. Nude sunbathing tolerant, this beautiful large expance of beach caters primarily to the young set offering a well organised the largest camp-site in Mykonos. The same business also rents rooms and runs the famous Paradise Beach Bar, where fun is always at its best, whereas parties and lots of events are held at that pool club cafeteria, snack bars, beach bars, mini shops and discos. Together with water sports and a professional diving center Paradise also has the most established camping facilities on the island. Transportation to and from the beach is possible through direct frequent bus service from town or boat service from Plati Gialos.
PARADISE or KALAMOPODI beach was once the main haunt of gay nudists. It is now more popular with mixed sexes and could even be considered a family beach for the more enlightened. But don"t expect to have relaxed or quiet time here. Noise beachside tavernas pump out dance music ad nauseam and you are never far from a cafe or burger bar. A large campsite nearby and diving school add to the delights. Otherwise this is a place to lie on the sand and enjoy the aromatic waft of hair gel and aftershave .
MykonosTour Page ID: 32