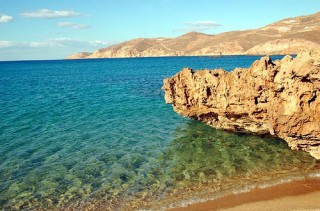 Ftelia beach Mykonos Island beaches Greece.
Waves and windsurfing.
North wind and fanatic windsurfers.7 kilometers east of Mykonos is located a beach called Ftelia full of cool and sophisticated people. Beanbag, Wi-Fi and easy access by car. "Alemagou", in the right side of the beach, offers to you food and coffee in a hippie chic environment.
P.S. Many competitions and surfers who do their training is an usual show.
Ftelia beach is a world-wide famous beach in the famous resort of Mykonos .There are only some studios and private rooms for your accommodation and one Hotel.It"s northern location has established the beach as a wind surfers paradise, as it almost always quite windy. The crystal clear waters and the unique landscape (sand and rocks) really deserve a visit. The beach is also well known for the famous  neolithic settlement found there believed that is the tomb of ancient  Iliad  hero  Ajax the Locrian . Ftelia is an isolated paradise during the  Mykonos  summer madness and as it is not very crowded due to the fact that it is quite windy it is preferred from the Mykonians and also the celebrities from around the world.
Very often subjected to a good onshore wind, north-facing Ftelia beach, unpleasant to sun bathers, is a great pleasure to wind surfing enthusiasts. Located on the north and central part of the island this beach forms the base to Panormos Bay, the largest on Mykonos. There is a restaurant to serve the needs of those who visit and access to this beach can only be made by taxi or private vehicles
The huge Panormos Bay in the north east of the island has three main beaches. The first, at the furthest southern end of the bay and nearest the capital is the increasingly popular beach at FTELIA. North facing and exposed to the strong winds that whip around the bay it is another big favourite with surfers. It has a fine sandy beach for those that prefer a more rugged environment to the soft south. Roads have improved recently and it is relatively easy to get to.
MykonosTour Page ID: 25