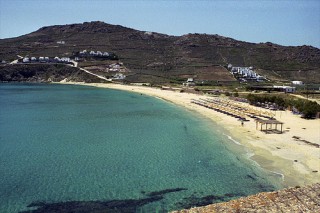 Agrari Beach Mykonos Island Greece
Mellow and diacritical.
In the south part of the island, near to Elia, is located Agrari beach, a huge beach with gold sand protected from the north wind.8.5 kilometers far away from the center is the most suitable beach to enjoy your swimming. Deep sea, easy atmosphere, cafeterias, restaurants with organic food, sunbeds, umbrellas, places to take a bath after swimming and free Wi-Fi.
P.S. In the middle of the beach you will find water-sports, too! Also, you can arrive there by sloop from Platis Gialos and Ornos beach.
On the Agrari Beach there is only one  hotel  for your accommodation and you may find it by clicking the section mykonos hotels accommodation. Agrari beach has remained one of the quietest beaches of the southern MYKONOS.This beach has a single restaurant and beach bar that caters to all who enjoy seclusion from the crowds. The beautiful blue, crystal clear waters will make you to forget the difficult road, and the true lord of the beach. Thanasis will win you over with hil polite manner. Apart from the fact that he will immediately remember you next time you visit, and make you feel like a "regular" he will also show you some wonderful wraps and throws at exceptionally good prices, if you ask him toThere is no local bus service but Agrari can be reached by private transport, taxi and boat shuttles from Plati Yialos. Due to its close proximity to Elia this beach can also be reached easily by foot from the Elia bus terminus.
AGRARI beach has some how managed to miss out on the massive exploitation of neighbouring beaches. The main reason is probably the nerve shattering approach down a boulder strewn ravine. The beach too is rather exposed and has a dirty looking stream running across it. But, if you want to escape the crowds this could be the spot for you.
MykonosTour Page ID: 23