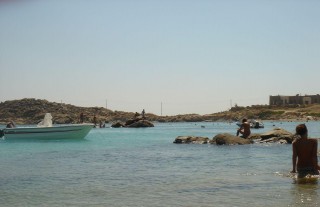 Paraga Beach Mykonos Island Greece
Almost 6,5 kilometers far away from the center of Mykonos is the small, with silver sand, blue-green water and small stones, beach of Paraga. Popular to young people, to gay people, with some nice restaurants, party mood and many beach-bars with loud music. The south location of the beach and the cove which is formed protect Paraga from the wind. Easy accessible.
P.S. Popular for nudism (right side of the beach).
Paraga Beach is one of the beaches originally made famous by the hippie generation back to 70s. Some Budget Hotels Accommodations and private rooms studios and apartments for rent , and small hotels are all available for tourists arount this beautiful beach. Paraga beach is the first in the chain of southern beaches which is tolerant to nude sunbathing and supports the needs of the young and fashionable. Set in a picturesque landscape the restaurants and music beach bars help to create a holiday atmosphere for not only its daily visitors but for those who chose to stay in its hotels and well organized camping facilities.
One of the  loveliest beaches on the island. On the south coast of Mykonos, its fine pale sands, rocks forming a natural diving platform, umbrellas of dry leaves, restaurants and beach bars under the trees and sun beds , create a gorgeous summer scene.
This is a popular beach with the locals as well as the tourists.  You can still find a laid back attitude mixed in with a party atmosphere. The music can get loud in front of the restaurant - beach bar, especially in August, when the Italian crowd flocks to Paraga Beach.
Public transportation to the beach is supplied by a regular bus service from Mykonos town and a frequent boat service from Platis Gialos beach.
MykonosTour Page ID: 33