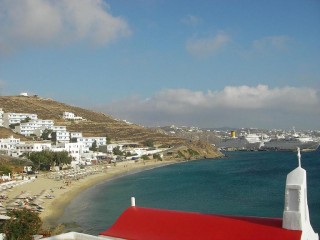 Agios Stefanos Beach Mykonos Island Greece
Agios Stefanos Beach is sandy beach next to the new harbor, Tourlos, of Mykonos. Many small family hotels and Luxury Hotels to Budget Accommodations and private rooms studios and apartments for rent are all available for tourists at this Beach. Agios Stefanos Beach is located 3.5km from Mykonos town. This beach is probably a solution for those who do not have their own means of transport and do not like moving around much. Agios Stefanos beach is surrounded by tavernas and hotels strictly catering to tourists. You will find sun beds, umbrellas, tavernas for fresh fish and cooked dishes, as well as a bar-taverna . Water sports facilities are available.The hotels that they are located at Agios Stefanos are : The hotel ALKISTIS , the hotel Artemis the Hotel Kastro ,the Hotel Mina , the Hotel Panorama , the hotel Princess of Mykonos and the Mykonian Blue Resort. At Agios Stefanos also are the Paolas rooms with very nice view to the sea .
Mykonos Nautikal Sports Club is sited in Agios Stefanos , is actively engaged in sailing at many different levels of attairtainment mainly addressed to children . Membership with an annualy paid subscription is a preerequisite for participation in the club"s activities 3.5km kilometers north of town and facing to the west is the well developed beach of Agios Stefanos. Many hotels in this area supply a wide range of accomodation with the beach itself offering a good selection of restaurants and cafes. This family oriented beach can be reached via taxi, private vehicle or regular bus service from town.
Agios Stefanos Beach MAP Mykonos Island Greece
MykonosTour Page ID: 21