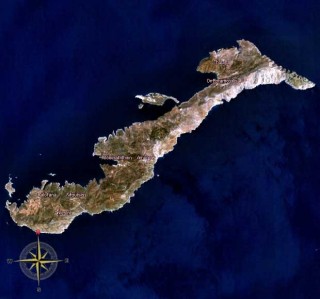 AMORGOS - CYCLADES ISLANDS - GREECE
BOOK ONLINE YOUR HOTEL AT AMORGOS HERE !

 

 

Amorgos is the eastern most island of the GREEK Cyclades island gro   up . It is the closest island of the Cyclades to the neighboring Dodecanese. The area is 121 km² and the population is about 1,800.
Due to the position of Amorgos across from ancient beaches of Ionian towns, such as Militos, Alikarnasos and Efessos, it became one of the first places from which the Ionians passed through to the Cyclades Islands and onto mainland Greece. The existence of three independent cities with autonomous constitution and the same currency, which have been preserved to this day, the size and artistic works of the walls surrounding the city of Arkesini, the ancient towers to which skeletons were raised to this day all over the island, the ancient tombs, the stone tools, the inscriptions, the vases and other antiquities are all powerful proof of the size of the ancient civilisation of Amorgos. Amorgos is also known as Yperia, Patagy, or Platagy, Pagali, Psichia, and Karkisia. Part of the island is named Aspis, where the ancient temple of the Goddess Aphrodite stood. From the name Minoa we suspect that from ancient times Amorgos had been colonised by the Cretans. Also, according to Suidan and from inscriptions, Samians inhabited the island under the leadership of Simmias. With the passing of time the islands name changed to Amolgon, Amourgon, Amorgian, and Amourgian. After the 5th century you can also find the name Amoulgos from Bishop Theodore who signed a Synod in Constantinople, as Theodore the Bishop of Parion, Sifnion, and Amoulgion. Skilax mentions it as Tripoli (the circumnavigation of the Cyclades Islands).
AMORGOS - CYCLADES Greek ISLANDS - GREECE

 

The names of the three cities given by Stefanos Vizantios are Arkesini, Minoa, Aigiali or Melania where according to inscriptions, are the more correct. The three towns are on the island"s west coast because only there you can find the right bays and natural ports that could provide the proper positioning for seaside towns and forts. Aigiali was on the north East Side of the island close to the present day locations of Tholaria and Stroumvos and to this day can still be found there. Whilst Minoa is situated at the centre of the northern side close to the present day village of Katapola, and Arkesini close to the present day lowland location Castri.
From excavations and findings, especially burial tombs we believe that the presence of Amorgos during the prehistoric years existed intensely, particularly during the first period of Cycladic civilisation (3200 to 2000 BC).
AMORGOS - Greek CYCLADES ISLANDS - GREECE
EE ALL THE HOTELS ON  MYKONOS ISLAND  AT :
GET ALL INFO FOR MYKONOS HOTELS AT

 

http://www.mykonostour.com/english/mykonos_hotels/index.html
MykonosTour Page ID: 120