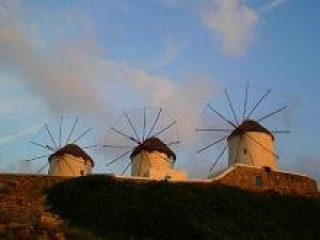 Mykonos Island GREECE Myconos Mikonos
Myconos is a very cosmopolitan island, made famous the last few decades by the international jet set visitors that spend their holidays on the island. Myconos has clean, magnificent beaches that offer everything from clear-blue waters, windsurfing, sea-side tavernas, loud music and even full nudity. Many Greek and international celebrities have summer residences in Myconos and can often be seen walking the charming white-washed roads or having dinner at a small street-side table of a local taverna. The island is Greece"s playground and one of the top holiday destinations in the world. Some people think you have not really seen what Greece has to offer until you visit Myconos. The island is one of the most upscale areas of Greece, and its real estate is very expensive. The popularity of the island has given rise to a wave of real estate development (private homes/villas and hotels) and concerns have been expressed that the island is gradually losing its character. The good thing is that (by law) every new building has to abide by the rules of the cycladic architectural style.
MYKONOS TOWN

Mykonos TOWN Chora is definitely one of the nicest and most charming towns of the Greek islands, with endless small streets, shops, windmills, churches, terraces and whitewashed houses.
A place to wonder around for days and every time find something unexpected. Because of the street layout (intended to confuse pirates) it"s also the perfect place to lose your way . It has two harbours where you can just sit and have a drink or something to eat, while enjoying the views and the people that walk by, and another harbour where the ferries depart.
Some ferries however dock at Tourlos, which is a half an hour walk away from Mykonos town itself. Behind the harbour front you will find endless (and very clean!) shopping streets with souvenirs and jewellery I guess mainly for the older American tourists that visit Mykonos town on a cruise, the Mykonos hotels and guesthouses, and more restaurants. Most ticket offices for the ferries are on the main boulevard. Mykonos also has its own international airport.
As goes for everything, accommodation in Mykonos Town has its advantages and disadvantages. Some good points are that you are always close to the unending nightlife, all the supermarkets and shops are at your feet, and if you are staying near Fabrica square (where the main bus station is situated), you can very easily reach almost every beach on the island by using the cheap and efficient public bus system. Moreover, if you like drinking alcohol when you are going out at night, it is much easier to get back home when home lies within 5-15 minutes of walking (when we say `in` Mykonos Town, we mean a distance of up to 800 meters from the actual town centre), instead of driving your moped back through badly lit streets, or getting a taxi in the early-morning hours when everybody needs one.
On the other hand, staying in town means that you might have to spend more on accommodation, and that you will have to tolerate the noise of the town, which in some parts of Mykonos (especially if you are staying next door to a bar or a nightclub, or on a main shopping street) can be a very good reason to have sleepless nights. That is, of course, if you are planning to have any sleep while on the island!
Please note that Mykonos town is flat, therefore, it does not usually offer any special views of the sea, the sunset, etc. If you are up for something like that, then you will need to take a hotel or unit that is slightly towards the outskirts of town, on the slope that overlooks Mykonos Town, the most important and popular areas being Despotika, School of Fine Arts and Vryssi. Most units built there are much quieter and generally offer much better views than the ones that are really downtown. The border between the town core and the town outskirts is Fabrica Square (on many maps featured also as `Southern Bus Station`) - this is the spot where the public buses, destined for the nice beaches further away from town, depart from.
MykonosTour Page ID: 203