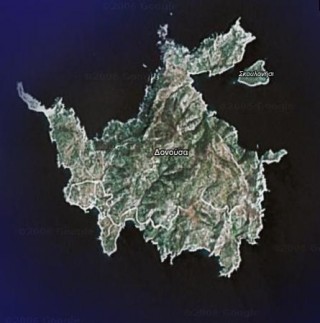 Donousa Island Cyclades Islands Greek islands Greece
Donousa Island Cyclades Islands Greek islands Greece
Donoussa or Donousa, also Denousa or Denoussa, Donoussa in the ancient times, Stenosa or Spinosa. of the foreign ship of the 19th century (Luigi Lamberti: Portolano del Mare Mediterraneo, Livorno 1856 vol. 2 pg. 286) along with Amorgos is one of the easternmost islands in the Cyclades.
Donoussa is located about 25 km (14 nmi) north of Amorgos (Katapola) and 7 km (4 nmi) from the Makaries islands as well as 15 km (8 nmi) east of the island of Naxos. The area is only 14 km² and are made up of mountains, hills, rocks and some bushes with a diameter of 5 km with the highest point being 385 m and with only 110 inhabitants. Most of its forests are in Donoussa. Donoussa has a small port having ferry routes to Naxos and Amorgos.
The population was 235 in 1928, 250 in 1946 and the population today declined down to only around 110. The later years saw the island rise in tourism which has visitors heading to and from Naxos and Amorgos.
Donousa Island Cyclades Islands Greek islands Greece Donoussa had downward its importance in the political activity of Greece in the 1850s for the news that the inhabitants knew the expulsion of Otto fourteen years later when King George I visited the island.
Later, it was important as well in the history of the First World War due to anthraxation hidden in the mountains near cape Aspro for the English and French warships and was later detained after the war.
Donousa map of the Island Cyclades Islands Greek islands Greece
MykonosTour Page ID: 134