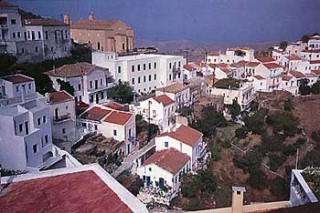 Kea, also known as
Gia, Tzia, Zea, Keos (Ancient: Κέως), or in LATIN as Ceos, is an  ISLAND of the CYCLADES , in the AEGEAN SEA , in GREECE. It is the island of the Cyclades complex that is closest to Attica (about 1 hour by ferry from  Lavrio) and is also 20 km from Cape SOUNIO  as well as 60 km SE of ATHENS. Its climate is ARID and its terrain is hilly. Its capital, IOULIS, is inland at a high altitude (like most ancient Cycladic settlements, for the fear of PIRATES ) and is considered quite picturesque. Other major villages of Kea are KORISSIA  (the port) andVOURKARI (a fishing village). After suffering depopulation for many decades, Kea has been recently rediscovered by ATHENS city dwellers as a convenient destination for weekends and YACHTING trips. The population in 1991  was only 1,797 and the density below prefectural and Greek average. Kea is 19 km long from north to south and 9 km wide from west to east. The area is 128 km² with the highest point being 560 or 570 m.
The municipality includes the island of MAKRONISOS to the northwest as well as a couple of ferry and shipping lines.
HISTORY OF Kea Island Cyclades Greek Islands Greece
Kea is the location of a BRONZE AGE settlement at the site now called AGIA IRINI , which reached its height in the Late MINOAN  and Early MYCENAEAN eras (1600-1400 BCE).
In the classical period Kea (Ceos) was the home of SIMONIDES  and of his nephew  BACCHYLIDES , both ancient Greek LYRIC POETS, and the Sophist  PRDICUS .
During the BYZANTINE  period many churches were built and the prosperity of the island rose. Kea was Byzantine until, in 1204, it was captured by the VENETIANS in the wake of the FOURTH CRUSADE. It was recaptured by the Byzantines in 1278. In 1296 it fell to the Venetians again, who soon built a castle on the ancient acropolis of Ioulis. The port became a haven for pirates and by 1470 there were only around 200 inhabitants on the island.
Kea was occupied by the  TURKS  in 1527. The Turks never settled on the island but they did repopulate it with ARVANITES at the end of the 16th century. During this period the island attracted many of the religious and intellectual personalities who wanted to lay low. With the island virtually free of Turks, it was a good place to be. But in 1668 the Turks destroyed the island because they had sided with the Venetians. But afterwards the remaining inhabitants were granted significant rights and by the end of the century the population was 3000.
Kea Island Cyclades Greek Islands Greece
MykonosTour Page ID: 124