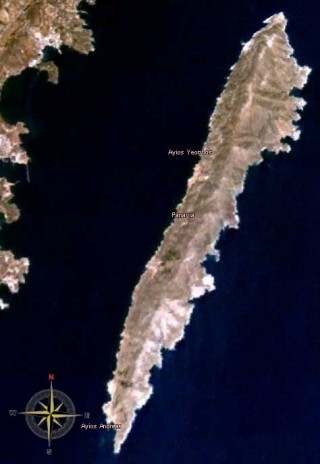 Makronisos island Cyclades Greek Islands Greece Makronisos island Cyclades Greek Islands Greece 
Makronisos (long island) is an island in the Aegean sea, in Greece and is located close to the coast of Attica, facing the port of Lavrio. It has an elongated shape (3km north to south, ca. 500 m east to west) and its terrain is arid and rocky. In ancient times the island was called Helena. It is part of the prefecture of the Cyclades but it is not part of that island chain.
Currently it is uninhabited, however, from the time of the Greek Civil War up until the restoration of democracy following the collapse of the Regime of the Colonels, it was used as a place of imprisonment for Greek communists, hosting hundreds of prisoners. Because of its history, it is considered as a monument of the civil war era; therefore the island itself and the original structures on it are protected from alterations.
The straits between Makronisos and neighbouring Kea are the site of the sinking, in 1916, of HMHS Britannic, sister ship of the RMS Titanic.
Geography
Location:
Longitude: 24.13 (24°7"8") E
Latitude: 37.694 (37°41"30") N
Postal code: 840 02
Elevation:
lowest: sea level
highest: 281 m
Makronisos island MAP  Cyclades Greek Islands Greece
Makronisos island Cyclades Greek Islands Greece
MykonosTour Page ID: 220