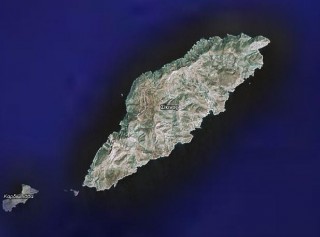 Sikinos Island Cyclades Islands Greek islands Greece
Sikinos Island Cyclades Islands Greek islands Greece.
Sikinos is a Greek island in the Cyclades. It was known as Oinoe (Island of Wine) in Ancient Greece. It contrasts with nearby islands, such as Ios, in being quiet and relatively less developed. There are two villages, one being a harbor, and the other higher up in the hills. There are a handful of tavernas in the harbor. The beach at the harbour is one of two large sandy beaches on the island. Several ancient ruins rest on the island, although some are remote. There are only 2 paved roads, although a third is being built to connect the nascent heliport and eventually a new resort on the other sandy beach, and there are aeveral well-maintained dirt roads. Much of the island is very difficult to access due to the terrain. Nearly all of the island"s area is covered by terraces once used for extensive agriculture. Now only a handful are used across the island, most operating on government subsidies.
Sikinos Island Cyclades Islands Greek islands Greece MYKONOS
Next you will find a map of greek islands the greek islands cruise greek islands weather , Pictures of the greek islands greek islands vacation greek islands like santorini at greece or grete at greece and greek island cruise.
With a greek island cruises and greek island vacations you may take a greek island tours with this Image results from greece islands and our greek island hopping at mykonostour with the greek island ferries by the greek island weather.
BOOK YOUR HOTEL AT MYKONOS ONLINE
MykonosTour Page ID: 140